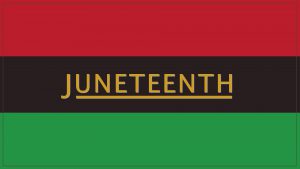 On June 19, 1865, Major General Gordon Granger arrived in Galveston, Texas, and announced the end of the Civil War and the end of slavery. This day in history has been recognized as Juneteenth ("June" + "nineteenth") and celebrates this turning point toward the end of slavery in the United States.
CDFA acknowledges the significance of this holiday in the African American community. More broadly, CDFA acknowledges the need for our staff and our stakeholders to know, to understand, and to contextualize this history as we work toward the end of the marginalization and the mistreatment that black citizens are still experiencing today.
The day is also known as Emancipation Day, Freedom Day, Jubilee Day, Juneteenth Independence Day, and Black Independence Day. Although the Emancipation Proclamation came two and a half years earlier on January 1, 1863, many enslavers continued to hold people captive after the announcement. Juneteenth became a symbolic date representing African American freedom.
On June 17th, 2021, President Joe Biden signed the Juneteenth National Independence Day Act into law, and on June 18, 2021, Governor Gavin Newsom issued a proclamation declaring June, 19, 2021 as "Juneteenth National Freedom Day: A Day of Observance" in the State of California. This year, Juneteenth is celebrated on Sunday, June 19th, 2022.
We encourage you to spend some time gaining a better understanding of Juneteenth by reading through "What is Juneteenth?" by Henry Louis Gates, Jr., and by experiencing Juneteenth celebrations in your community to learn about its relevance today.