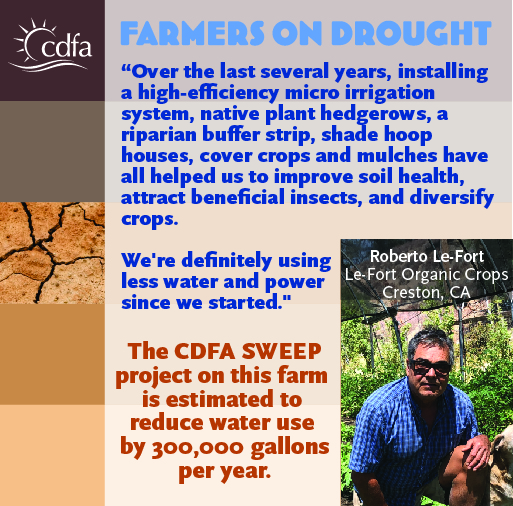 Roberto Le-Fort and Dolores Howard farm a diverse number of crops just north of San Luis Obispo in the town of Creston, California, including apples, peaches, four varieties of basil, carrots, tomatoes, a multitude of herbs and spices, as well as summer and winter squashes and gourds, just to name a few. Le-Fort is a grant recipient from CDFA's State Water Efficiency and Enhancement Program (SWEEP), which supports producers to reduce their on-farm greenhouse gas emissions and improve water efficiency.  
With SWEEP funding, the Le-Fort farm is implementing the use of soil moisture and temperature sensors to assist with the timing of irrigation and a solar array to offset the energy used by irrigation pumps. Although soil management practices were not funded by SWEEP, the farm uses cover-cropping, mulching, and compost to support soil health and water retention in soil as part of its overall climate-smart ag practices.
1. What does this drought mean to you and what are you doing to adapt to it?
This drought and temperature increase affect all of us, but especially the people who must work in these extreme conditions. We are progressing towards changes in daily practices, such as careful monitoring of irrigation leaks and irrigation timing, using water multiple times, intense mulching, and experimenting with new crops that can be successful in these conditions.
Over the last several years, installing a high-efficiency micro irrigation system, native plant hedgerows, a riparian buffer strip, shade hoop houses, and more use of cover crops and mulches have all helped us to increase soil health, attract beneficial insects and diversify crops.
2. What is your advice to others for reducing water use and improving efficiency?
These incentives get you doing the practices; by the time you're done, it's just the way you do things. Having your data all in one place makes planning easier. Apply compost and other organic materials. Use irrigation timers and other helpful technology. Explore new options for crops and learn from others (new strategies and wisdom of elders).
CDFA is proud to have invested more than $123 million in grant awards for 1,111 projects by producers to upgrade their water efficiency infrastructure and reduce their greenhouse gas emissions. Overall, this program has saved an estimated 47.1 billion gallons of water annually, enough to fill 70,000 Olympic-size swimming pools. Further, these projects have reduced the equivalent of 93,000 metric tons of CO2 annually, representing 20,300 cars taken off the road for one year.
Learn more about these efforts here: State Water Efficiency and Enhancement Program