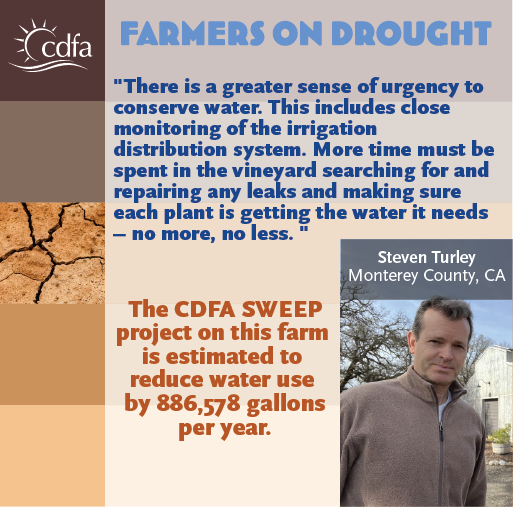 As relatively new farmers in California, Steven Turley and Vinnie Sassone continue to learn the importance of responsible water management. Coming from the eastern US where droughts aren't as common, they didn't have the same reliance on irrigation they do now in southern Monterey County. It wasn't as significant a consideration, Turley said. Having owned their vineyard in the San Antonio Valley since late 2018, the co-owners have not known any condition other than drought, but it seems to intensify with each passing year, according to Turley.
CDFA interviewed Steven Turley about the experience:
What does this drought mean for you and your farm, and what did you have to do to adapt to it?
The greatest change we had to make has proven to be a benefit. Previously, this vineyard had been farmed for quantity, using large amounts of water to increase the yield. During our first year of production here, we decided to greatly decrease the water used on the vines, resulting in smaller fruit with a better juice-to-skin ratio. For winemakers seeking a higher-quality grape, this meant we needed to find a different type of buyer for the fruit, one that was looking specifically for grapes grown to produce an artisanal type of wine. For this reason, we can increase our price per ton.
What are the biggest challenges you face adapting to ongoing drought?
There is a greater sense of urgency to conserve water. This includes close monitoring of the irrigation distribution system. More time must be spent in the vineyard searching for and repairing any leaks and making sure each plant is getting the water it needs – no more, no less.
Another challenge is the constant fear of having our well run dry. With each passing year, we hear of another neighbor having their well run dry, this would be disastrous for any farmer relying on a consistent supply of water.
Has the drought provided you with any silver linings or happy discoveries you may not have otherwise found?
As previously mentioned, while the drought has forced us to cut back the amount of water used, the result has been a higher quality grape for winemaking.
Another important silver lining has been an education in water conservation. The drought led us to seek ways to monitor our usage, which led us to install a new weather station, well water meter, groundwater moisture sensors, and new valves, all Wi-Fi controlled. We received a SWEEP grant for those items, which made it all possible.
What would your advice be to other farmers for reducing water use and improving efficiency?
Education is key. Talk to other farmers about how they are reducing their water usage. Perhaps join a group of other farmers who are producing the same crop. There is also a lot of information on water conservation available from state agencies. It might also be beneficial to have a conversation with your buyers. Learning what their expectations are in terms of the final product might lead you to some decisions on what your farming practices will be for that year.
With all the recent rain, it would seem like a good thing for farmers – is that the way you see it? How have the recent storms impacted some of your water savings practices?
The recent rains are very welcome here. In addition to raising the water table in our well, there is nothing like natural rainwater to create a pH/acid balance within the soil. We have found that during the drought, the pH in our grapes has been high while the acid is low, and adjustments must be made in the winemaking process. It will be interesting to see, but we suspect that with all the rain this year, there will be a better balance, requiring fewer adjustments.