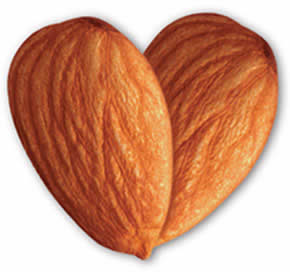 http://www.mercedsunstar.com/2012/10/30/2621159/almonds-now-no-2-california-commodity.html
Almonds were the second-most valuable commodity in California in 2011, surpassing grapes for the first time ever, according to the California Department of Food and Agriculture.
In 2011, almonds generated $3.87 billion of economic activity, according to agriculture department data, and grapes were valued at $3.86 billion.
That's a switch from 2010 when California grapes were in second place with a value of about $3.2 billion and the state's almond crop was third at about $2.84 billion.
The two commodities will likely duel for second place in years to come, said Steve Lyle, CDFA spokesman. "But both seem to be producing in robust fashion."
Milk continues to be the top grossing commodity in California, valued at $7.6 billion last year, up from $5.93 billion in 2010.
In Merced County, where almonds have been the second leading commodity for some time, the industry last year generated $397 million, up from $287 million in 2010.
The California Almond Commodity Board has successfully marketed the nut to the world, said David Doll, a farm adviser with the UC Cooperative Extension in Merced.
"It's one thing to be able to produce a big crop," he said. "It's another to be able to sell that crop and make money."
And officials say there's room to grow.
"Even with this record production, we have more demand than we have supply," said Bob Curtis, associate director of agricultural affairs with the Almond Board. "The driver behind that is nutrition studies that show almonds are a healthy food and snack."
California now produces about 80 percent of the global market, according to data from the Almond Board. And while demand has increased, so has production.
Valley farmers grow about 2 billion pounds of almonds a year on 760,000 acres, according to the University of California Division of Agriculture and Natural Resources. Forty years ago, the state produced about 100 million pounds of almonds on about 200,000 acres.
Technology has greatly improved yields and efficiency, Doll said.
"The thing that pushed production beyond any of our hopes and dreams was the ability to apply both water and fertilizer at the same time through an irrigation system," he said. "We're able to get these nutrients in the right place at the right time."
The average yield in California last year was 2,670 pounds of shelled almonds per acre, according to the UC Division of Agriculture and Natural Resources. Farmers 30 years ago would have been happy to get 1,400 pounds an acre.
As more people started growing almonds, a wide network of service providers developed, including nurseries, contract sprayers and harvesters, as well as haulers and shellers.
That gives California a huge competitive edge, Doll said.
In other places, "they may have the environmental conditions for almond production but they don't have the infrastructure," he said. "Just having Highway 99 is beyond what most people have in countries where they grow almonds."
Reporter Joshua Emerson Smith can be reached at (209) 385-2486 or jsmith@mercedsunstar.com.