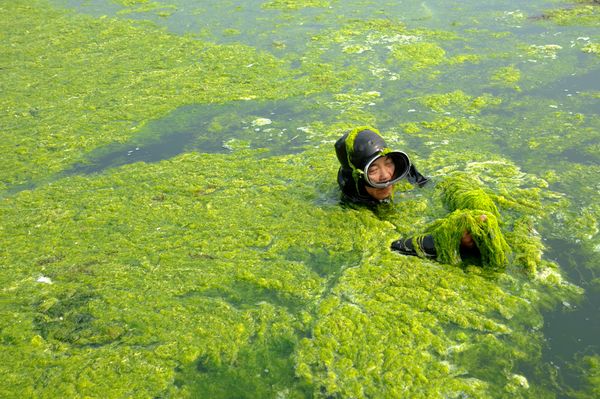 The Department of Food and Agriculture's Division of Measurement Standards (DMS) has tested samples of a new 20 percent biodiesel blend fuel made from algae and is happy to report that the fuel is compliant with California's quality specification for biodiesel blends.  The new fuel became available November 13, 2012 at four gas stations in Berkeley, Oakland, Redwood City and San Jose as part of a pilot program.
The algae is not typical pond algae – it is produced specifically to consume sugar and convert it to stored oils that supply energy.  The algae is grown in special reaction vessels under very sterile conditions to encourage maximum oil production.
The fuel is 20 percent algae biodiesel blended with low sulfur diesel fuel. Samples were tested to ensure overall high-quality engine performance and to ascertain that exhaust emissions will remain low. The tests were also good indicators that engine deposits and engine wear will be minimal, and that corrosion and filter plugging are reduced – very important factors for fuel used in diesel engines.
When evaluating biodiesel and other fuels, California adheres to standards set by ASTM International and SAE International, which meet the requirements of engine manufacturers worldwide.   DMS has a rigorous program of sampling and testing for fuels sold at retail.  A 2012 marketplace survey showed 99 percent quality compliance rate in gasoline and 98 percent compliance for diesel.
Persons experiencing problems with quality, quantity or product labeling of fuels or automotive products can contact their local county department of weights and measures or the DMS at 916-229-3000. The DMS website http://www.cdfa.ca.gov/dms/ has additional information about petroleum products as well as an online complaint form and links to county weights and measures offices.