Who's on the California farm?
From 1980 to today, California's population has grown from 23.7 million to more than 39 million. That's up 65 percent – and the vast majority of those folks are in urban and suburban areas. Our rural population remains well under one million in California by USDA's measure and has grown at a slower rate than the more urbanized areas, about 46 percent over the same period.

95 percent of California's 77,400 farms are family-owned. Non-family corporations make up just 1.3 percent of farms in California. The remainder, 3.6 percent, are operated as cooperatives, estates, trusts, institutions, etc.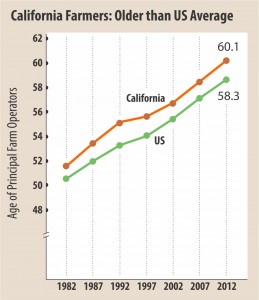 The average age of a California farmer rose from 56.8 years in 2002 to 60.1 in 2012. That's a year and a half older than the national average of 58.3 years. More of those farmers are diversifying their businesses and/or working multiple jobs, too – 54.5 percent of operators listed "farming" as their principal operation in 2012, compared to 61.7 percent in 2002.
The number of men working as "principal farm operators" in California has decreased from 67,016 in 2002 to 63,873 in 2012.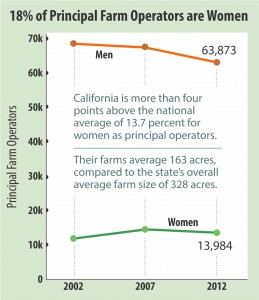 Source: USDA Ag Census data, National Agricultural Statistics Service (NASS)