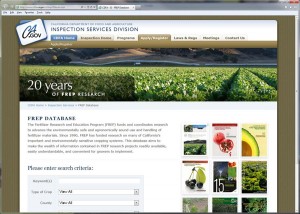 Over the past 20 years, CDFA's Fertilizer Research and Education Program (FREP) has funded over $12 million dollars worth of scientific research on the environmentally safe and agronomically sound use of fertilizing materials.  One of the goals of this research is to advise growers as well as agricultural supply and service professionals on effective agronomic practices. However, to date, the only way for growers to learn about the results of these research projects has been to read the highly technical and lengthy research reports.
In an effort to make the wealth of information contained in these technical reports more user-friendly, the program has created a web-based "searchable" database.  Phase 1 of the database is now complete and can be accessed here. The database includes summaries of FREP technical reports which users can search by keyword, crop, county, and timeframe. Scientific findings from ongoing research will continue to be added to the database from a variety of sources including fertilizer recommendations collected through research institutions such as the University of California, Davis.
Phase 2 of the project will involve the creation of interactive crop fertilization guidelines. These guidelines will be created using a number of sources in addition to FREP research and will make the current data even more user-friendly through a visually interactive interface.  Additional information about Phase 2 can be found here.
This initiative is part of a larger departmental effort to bring practical solutions that aid growers in enhancing on-farm environmental stewardship practices and effectively using agricultural inputs. Balancing agricultural inputs with the output of food production to feed a growing global population is an important part of farming in California.
For further information on the FREP database effort, please contact FREP staff at frep@cdfa.ca.gov or (916) 900-5022.